This not working for you?
You're not alone.


Only

6.4%

of people who want to stop smoking are able to do so on their own.
The good news is, making the decision to quit is the hardest part. Hypnosis can reframe your thoughts to make quitting a breeze!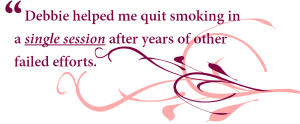 ---
What Clients Say About Debbie:
Great Hypnotist and Person – I have known Debbie since August of 2007. She is one of the kindest most caring people I have met in a long time. Plus an extremely great hypnotist. I feel very blessed to have found her. She is such a great help to me and refuses to let me give up on myself. I recommend her as highly as can be recommended. You will not find a better professional than her anywhere. Or a better person.
Debbie taught me so many coping skills. When I left her chair after my session, I was more relaxed than when I would have a total massage. The whole experience was awesome. I had never had hypnosis before and fought it in the beginning. I will go back whenever I need again. The tapes that she sends you of your session are great reminders of what needs done to accomplish our goals. I now highly recommend Debbie to anyone who wants to learn life skills in a time when stress is abundant.
* Results will vary based on each patient's physical health, family history, diet and exercise, physical condition and experiences.
---