Debbie was a guest on the Dr. Jaime Show
Debbie and Dr Jaime discuss handling stress after the Hurricane Irma. Dr Jaime had some great questions for Debbie regarding all things hypnosis as well!
~~~~~~~~~~~~~~~~~~~~~~~~~~~~~~~~~~~~
The Jennifer Mee Story
One of the most notable cases I have worked with was a young girl named Jennifer Mee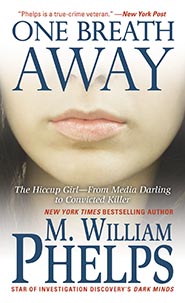 who was suffering from a case of chronic hiccups. Her hiccups stopped in my office, but her challenges did not. She had become a media darling. Once she was no longer news worthy, she became anonymous again. At least for a while. Then the unthinkable occurred and Jennifer was back in the news, this time connected with a murder. Jennifer was convicted and is currently serving her sentence for first degree murder.
M. William Phelps is a crime and serial killer expert, New York Times best selling investigative journalist and has written numerous award winning nonfiction books as well as both television and radio series on real crimes. One morning my phone rang and it was Mr. Phelps, wondering if I would be willing to be interviewed for a book he was going to write about Jennifer. We spoke a few times and then time passed and I thought little more about it.
February 2016 and his book, One Breath Away was published. I purchased a copy and read it straight through. He was compassionate and truthful and had a very interesting take away on the matter. Still, it was a shock when I opened up Chapter 33 and the first words were my name!
CHAPTER 33
DEBBIE LANE WAS sitting at the local coffee shop near her office on March 2, 2007, enjoying a cup of coffee, when her cell phone rang. Lane had been following Jennifer's story in the newspapers. She was profoundly affected by Jennifer's personal struggle and the torment that Lane perceived the affliction had caused Jennifer and the Robidoux family. A certified, practicing hypnotist, Lane wanted to help from the first moment she heard about Jennifer's case. She truly believed that with properly administered hypnotherapy, she could help Jennifer eliminate or overcome whatever underlying, troubling issues from Jennifer's past (or present) that were the foundation of what was causing her hiccups. It was Rachel Robidoux on the other end of Lane's phone line. Someone whom Lane did not know personally and had never spoken to before, but had certainly heard about in those news reports of Jennifer. As Lane saw things, she felt bad that Jennifer was being whisked around town, flown off to New York, and put up on a public stage for everyone to gawk at. The hypnotist worried about Jennifer's delicate, young psyche being exploited by the media. "I am Jennifer Mee's mother. A reporter gave me your name and number. Are you willing to work with Jennifer?" Rachel asked during that first phone call. "Absolutely," Lane said. She explained that she would even waive her fee. She wanted to help Jennifer any way she could. They made plans to meet that evening after Lane rearranged her schedule to make room for Jennifer.
Rachel and Jennifer arrived at Lane's Palm Harbor office in the early evening hours of that same day. Jennifer's friend Allison Baldwin was with them. Jennifer and Rachel were somewhat skeptical about the procedure, but they claimed they were willing to try anything at this point. It had been thirty-seven days and counting, and Jennifer was still hiccupping. A typical session Lane conducted lasted one hour to ninety minutes. The hypnotist would spend some time with the client alone and learn as much as she could about the person before beginning the actual hypnotherapy. Hypnosis is designed to reach the inner awareness of a person, his or her primary sense of consciousness, and pick up on what the principal issues are surrounding a particular problem—i.e., lack of sleep, smoking, alcoholism, excessive eating, belching, farting, hiccupping, whatever. At its fundamental core, hypnosis aims to focus on the client's goals: what does he or she want out of the session? Lane warned: not everyone will benefit from hypnotherapy. Right away, she realized, "Jennifer was a malleable young lady." In Lane's opinion, she felt, just by speaking to Jennifer briefly that Jennifer was being manipulated, maybe even used in some way. Or perhaps Jennifer was herself using the hiccups as a means to an end of some kind? Debbie Lane was the 2007 "Hypnotist of the Year" internationally (with hypnotists from as many as twenty other countries in the running); she is a certified member of the National Guild of Hypnotists, along with several other certifications. Hypnosis isn't some Houdini-like, spiritual, Long Island Medium-type of psychic, junk science. To the contrary, Lane said: "Hypnosis is a method of achieving a relaxed state of heightened focus and concentration—intensified attention and receptiveness to an idea or set of ideas. Hypnosis produces the ability to experience thoughts and images as real, bypassing the 'critical factor' to establish selective thinking. When the conscious mind is bypassed, the subconscious mind is open to suggestion. This hypnotic trance state makes it possible to increase motivation or change behavior patterns." Hypnotherapy also allows the hypnotist to understand why the condition, problem, or personal issue in the client's life is occurring in the first place, which can, in turn, lead to that change that the person is seeking to take place. The type of treatment Lane began with Jennifer, "hypnotherapy," is what she referred to as a "complementary treatment of a health problem, using hypnosis following a diagnosis. Hypnotherapy is performed by a hypnotherapist. By law, hypnotherapy must be performed by a trained professional who is a medical practitioner, or under the supervision or direction of a licensed practitioner. Some issues require a script from a medical doctor for a referral." Lane sat Rachel down in her office and explained how the session was going to work, once she and Jennifer were alone. "You cannot be here. You'll have to wait outside the room. I'm going to tape-record the session. . . ." Rachel said she was okay with all of that. She then signed the waiver forms the hypnotist required because Jennifer was a minor.
To Read More About Jennifer Mee
The book is easy to read and a page turner.
M. William Phelps does a great job of explaining the facts he uncovered without sensationalizing them. To order the book or the Kindle version follow this link: One Breath Away
You will be glad you did!
~~~~~~~~~~~~~~~~~~~~~~~~~~~~~~~~~~~~~~~~~~~~~~~~
The Crazy Marketing Ladies Show

Debbie was interviewed by these crazy (Smart!!!) ladies. Listen to the fun here:
Stop SmokingGroup Session
Tobacco use continues to be the single largest preventable cause of disease and premature death in the US, yet about 42 million Americans still smoke cigarettes; that is slightly under 1 in every 5 adults. The average smoker spends $1,400 – $2,500 annually on cigarettes. This doesn't include the increased cost of health and life insurance; possibly increased costs in homeowners and auto insurance. Medical costs increase for the smoker as well as dental expenses.
The American Cancer Society has created an annual event to help change those statistics and costs called The Great American Smoke Out. Dr. Lara is dedicated to the health of each of his patients. So, he has teamed up with Debbie Lane to assist smokers in their desire to stop smoking.
Debbie has had great success with smoke cessation in the past and now is offering a group session at a discounted price.
When: Thursday, November 20, 2014 at 7:00 pm
Where: Dr. Lara's Curlew Center, 2323 Curlew Road, Dunedin, FL 34698
Cost: $40 for current patients, $50 general admission
RSVP: [email protected] or call 727-446-3021
#stopsmokinghypnosis #stopsmoking #smokecessationhypnosis
---
Debbie Lane, C.Ht. to appear on TLC documentary television series produced by Sirens Media
TLC just wrapped filming of an episode of "Strange Sex" in which Debbie Lane was selected to provide hypnosis. For details, follow "Strange Sex" on TLC when they are released.

---
Cesar Lara, M.D. has selected Debbie Lane, C.Ht. to offer hypnosis to his weight loss patients
Clearwater weight doctor adds hypnotist to his services.
Clearwater, FL, July 09, 2011 –(PR.com)– Cesar A. Lara, MD; Center for Weight Management is now making hypnotherapy available in his Clearwater office. Debbie Lane C.Ht., owner of Wisdom Hypnosis, will be taking appointments on Wednesdays beginning July 13, 2011. Dr. Lara feels that lifestyle change is the key to successful weight loss, and hypnosis is a tool that can affect behavior and lifestyle quickly and effectively. Dr. Lara's vision is not only to help his patients achieve their desired healthy weight, but more importantly, to help each patient develop a healthier lifestyle that will keep the weight off. He believes that the addition of hypnosis will enhance the experiences of his patients.
---
The Real Love Potion #9
If Valentines Day is so happy, why do one in four Americans refuse to celebrate it?  And why do 15% of American women (and some men) send flowers to themselves?
Obviously, we haven't all found our true love. But it isn't for lack of trying. We gamely go to singles events. We cross our fingers and register online. We hound friends for introductions. We even hang out in bars. But six months or six years later, we still sigh when Elvis asks, "Are you lonesome tonight?" Remember the guy in Love Potion #9 who was a "flop with chicks?" Well he almost got it right. But instead of going to Madame Rue for something to drink , he should have come to Wisdom Hypnosis for something to think . Everyone knows hypnosis is effective for smoke cessation and weight management; but did you know that hypnosis can help you define and attract that special someone who matches your requirements— exactly . (Don't believe me? Wait till you meet Exhibit A.) Through wisdom hypnosis, total relaxation, and deep writing, you will:
•    measure and build self esteem 
determine where you're stuck on the map of heartbreak 
learn how to get unstuck 
release the mistakes of the past 
thoroughly describe Mr. or Ms. Right 
prepare to love and be loved
•    start attracting the right person into your life
---
The Year of Your Dreams is a brand new program being developed for national syndication.
We all have dreams. But some people seem to manifest their dreams more effortlessly than others. Why? What are they doing that's different? Is there a process? Can it be taught? Can anyone create the life they want? Yes. Janet Conner knows the secret. Using her soul writing process, Janet has manifested a national column, a publisher, a book contract, an agent, and even a boyfriend. Her new book, Writing Down Your Soul: How to Activate and Listen to the Extraordinary Voice Within , comes out this fall. Janet thought she had this whole "manifest your dreams" thing down pat. That is, until she met Debbie Lane . Debbie is a world class hypnotist, recognized by her peers as "The 2007 Hypnotist of the Year." Debbie showed Janet how to access and harness a limitless supply of wisdom and power through hypnosis. And Janet showed Debbie how soul writing attracts immediate, focused guidance. Janet and Debbie put their heads together and now, for the first time, you can experience what happens when the two powerhouse systems of soul writing and wisdom hypnosis join hands to manifest your dreams.
---
HEA 2007 Hypnosis Achievement Award
On Saturday, November 10, 2007 the Hypnosis Education Association presented Debbie with the prestigious Hypnosis Achievement Award for 2007.  This award, presented by Michael Watson (President of the HEA) was given in recognition of Debbie's contributions that have helped to further the education and awareness of hypnosis. 

Debbie was also a presenter at the conference, teaching her colleagues how to help clients in relationship matters.
---
Pinellas County Commissioners Sign Proclamation
January 4 has been officially designated World Hypnotism Day in more than 22 nations. Pinellas County Commissioners recently presented Debbie Lane, C.Ht. of Palm Harbor with the official proclamation.
View the Proclamation HERE stay tuned…
---
"Success Is A Matter Of Mind"
Debbie Lane presented a dynamic new seminar: "Success Is A Matter Of Mind" to a standing room only audience for "A Women's Symposium 2007" in October .  Part lecture and part hypnotic demonstration, the seminar showcases the benefits of harnessing the power of the subconscious to improve desired results for personal and business success.  In this workshop Debbie defines luck and explains how to bring the right kind of luck into your life.  Participants learn about the behaviors that have held them back, how to release them and move forward towards their dreams and desires.  Participation creates instant changes.
To arrange a speaking engagement for your business, group, or convention, Contact her office.
---
By Popular Demand The Happiness PIT STOP Returns!
This is your chance to enjoy the best kind of Happy Hour.   Get out of the traffic and pull in to the Blue Orchid Healing Center and Wisdom Hypnosis for our monthly Happiness Booster.  
We've combined the expertise of acupuncture, hypnosis, massage and esthetics's to create this one of a kind experience designed to soothe you and reduce your feelings of stress.
For a $25.00 donation you can enjoy a variety of stress reducing treatments while raising money for various charities. This is your chance to rest, relax and rejuvenate for a worthy cause.
Fifteen minute Happiness Pit Stop Boosters are available from 5:00 p.m. until 7:00 p.m. You choose whether you want to experience one, two, or all of the boosters. To reserve your spot at this spectacular event call (727) 781-8483 and let us know what sessions you want. Light Refreshments will be served.  
1003 Indiana Ave. (corner of Indiana & Alternate US19) 
Palm Harbor.
---
Hypnotist Of The Year-Debbie Lane Awarded International Honor
[May 22, 2007] Debbie Lane, Certified Hypnotist, was honored with the "Hypnotist of the Year" Award by the International Association of Counselors and Therapists (IACT). During the IACT Annual Convention in Miami this past weekend, Lane was celebrated for her contributions to the global hypnosis community and her outstanding client service which has brought national attention to the use of hypnosis for the treatment of long term physical ailments.
In accepting the award, Lane thanked the selection committee for their recognition of her efforts toward promoting the field of hypnosis. The International Association of Counselors and Therapists (IACT) is an association of multidisciplined practitioners who specialize in holistic techniques and complementary healthcare. IACT's membership includes medical practitioners, psychologists, clinical social workers, stress consultants, NLP practitioners, clergy, licensed massage therapists, hypnotherapists, biofeedback specialists, nutritionists, educators, mental health therapists, substance abuse counselors and others in the helping, healing arts. Founded in 1990, IACT has members in 27 countries.
---
Charities to Benefit from Hypnosis Sessions offered by Debbie Lane, C.Ht.
Debbie Lane has a heart of giving back to the community. She is committed to helping people with a sincere desire to improve their lives through hypnosis. This weekend two events will raise funds for The Women's Resource Center and the American Cancer Society. The Women's Resource Center of New Port Richey will benefit from a workshop and group session conducted by Debbie Lane ,C.Ht that expands the principles of the popular Law of Attraction . The Women's Resource Center is a nonprofit organization that provides aid to abused and homeless women and children. The Palm Harbor Chamber of Commerce Relay for Life Team will raise funds for the American Cancer Society with Become Smoke Free . Certified Hypnotists Debbie Lane and Patti Scott are teaming up to offer a unique seminar for people who want to free themselves from the smoking habit. The event will raise funds and awareness with 100% of the registration fee (only $75.00) donated to the American Cancer Society.  The hypnotists will offer a powerful "dual induction", both hypnotists offer guidance during this special hypnotic experience.  The combined experience in smoke cessation makes this a powerful opportunity for those who participate.
---
Law of Attraction Workshop & Group Session
"PORT RICHEY – On Saturday, the Women's Resource Center of New Port Richey will benefit from the Law of Attraction. 
Debbie Lane of Wisdom Hypnosis will conduct a workshop and group hypnosis session on the Law of Attraction. The law stresses the value of not dwelling on negative situations or emotions. 
The cost of the workshop is $25. A portion of proceeds will go to Women's Resource Center , a nonprofit organization that provides aid to abused and homeless women and children. 
The workshop will be held April 28, 9:30-11:30 a.m., at the Jasmine Lakes Clubhouse, 7137 Jasmine Blvd. , 
Reserve tickets by calling Lane at 727-781-8483. For information go online to www.wisdomhypnosis.com.
Compiled by Carl Orth, Suncoast News:  http://suncoastpasco.tbo.com/content/2007/apr/24/window-pasco-april-24/?news
---
After 37 days of hiccuping, a hypnotic trance does the trick for long-suffering Jennifer Mee.
Jennifer Mee is the 15 year old Florida woman, who suffered from 37 painful days of non-stop hiccups. The news media affectionately referred to her as "the hiccup girl". Her story has been followed by numerous national and local news, publications and radio stations including: The Today Show, Inside Edition, Extra, ABC,NBC, St Petersburg Times, The Tampa Tribune and various publications throughout the country. The spasms, which had derailed her daily life ended precisely Wednesday February 28,2007 while she was in hypnosis. She entered the session at her 4:30 appointment time and left at 6:01 p.m. hiccup free! In an interview with Don Germaise of ABC News Tampa affiliate, she said that her hiccups stopped within 20 minutes of her second session with hypnotist Debbie Lane of Palm Harbor , Florida. While the media reports that it's either a mystery as to why it stopped, or a combination of treatments, Jennifer stated: "It happened in my last appointment at the hypnotist's office". She explained to St Petersburg Times reporter Mary Jane Park that her spasms had stopped as she came out of a hypnotic trance.
She looked at Debbie Lane , the Palm Harbor hypnotist who offered to treat her for free, and said her first uninterrupted words: "I love you."